Trivia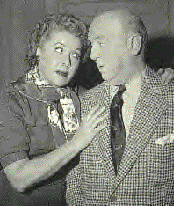 This is this month's Trivia Quiz. I hope you enjoy it. Check out the
Lucy Honors
page to see a list of Lucy experts. [Note: The questions change every month, so come back next month and you can take another challenging quiz!]
2. Instead of hostess pants, what did Ethel want for her birthday?

A Fur
Shoes like Lucy's
A new washing machine
A Toaster

3. What was Ricky's last name on his and Lucy's first marriage certificate? ?

Micardo
Bacardi
Richards
Ricahrdson

4. While trying to get a job at a candy factory, what did Lucy say she was called earlier in her fictitious candy career?

The Big Dipper
the Little Dipper
The Candy Queen
Lucy - the Queen of Candy>

5. In what episode of I Love Lucy did Lucy and Ethel bail the fellas out of jail?

Little Ricky Gets a Dog
Lucy Plants Tulips
The Anniversary Present.
Equal Rights

6. Without realizing what she is saying in Spanish, what does Lucy call Uncle Alberto?

a mean donkey
a big horse
a bad uncle
a fat pig

7. How many cakes of yeast did Lucy put into her bread??

3
27
8
13

8. When Lucy fakes illness to get into the show, where does the doctor say the gobloots came from?

The hind legs of the booshoo bird
The front legs of a zork
The front legs of the shooboo bird
The hind legs of the shooshoo fly

9. What happend to Lucy's Bonus Buck?

she gave it to the laundry man.
Ricky lost it.
she gave it to Ethel.
She gave it to the grocery boy

10. when did the Ricardo's apartment number change from 3-B to 3-D?

Lucy Tells the Truth
Lucy Wants to Move to the Country
The Ricardos change Apartments
Lucy Hates to Leave.