Laughing Lucille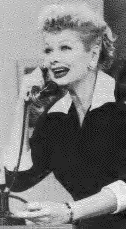 Laughing Lucille
By: Leonore Silvisn, Staff Writeer | Look - July 3, 1952
Lucille Ball makes comedy out of tragedy as accidents can and do happen to her in television, the movies and at home.
STANDING around a television stage one day, Lucille Ball burst into flames. Investigation later provided a rational explanation for this odd behavior. But the wonder is that anyone bothered to investigate at all -
Lucille being the kind or a girl she is. Accidents come natural to Lucille.
"The trouble with Lucy," a friend of hers once sighed, "is that her real life is so much like her reel life."
That troubles have their own reward can be seen in I Love Lucy (CBS, Mon. 9 PM, EDT), television's reel version of the married life of Lucille and Desi Arnaz, her handsome bandleader husband.
There has never been a divorce between the public and private lives of the Arnazes, and their TV comedy is no exception. The program makes the most of their extravagant devotion and their extraordinary ability to find humor in any situation. The combination has resulted in TV's most popular program.
Both Lucille and Desi like practical jokes and the seltzer dousing and pie smearing they administer on I Love Lucy is not too remote from the horseplay that goes on in their home. "I betcha" is a household phrase at the Arnazes, as well as the theme of many of their TV skits. Desi says modern women haven't the spunk of their grandmothers. Or Lucy insists males gossip more than females. Inevitably they make a bet, and the program revolves around comic situations that result when each strives to win.
The couple's biggest real gamble was the chance they took on television. Between them, they gave up a half million dollars in yearly earnings from movie, radio and Desi's band engagements to make the plunge They formed the Desilu Productions which owns and produces I Love Lucy because adding up income was becoming meaningless While they were making a lot of money, a good part of it was rolling out in taxes. And their double career was making a relay race of their marriage. As Lucy tells it: "Desi was driving home from a band date when I was getting up to go to the studio for a day's work - and that's a dull way to live, brother."
On TV, they work together four days a week and have week ends at home with their baby girl, Lucie Desiree, born last July. The pay isn't bad either. For their CBS series, their sponsor, Phillip Morris, pays them $30,000 a week, out of which Lucille and Desi pay the other expenses. Their net take-home pay averages between $5000 and $7000 a week. Since the program is on film, each show represents an investment.
"Figure it out for yourself," says Desi. "A half-hour TV show will bring in $100,000. We're doing 39 shows a year which we can release and run indefinitely."
One-Doughnut Lucille
There was a time when Lucille didn't have a nickel for a cup of coffee. She was 17 years old and looking for a job on Broadway. During this period she was dining only when she could find a "one-doughnut man." "This," she explains, "is a guy who sits at a counter and orders doughnuts and coffee. He drinks his coffee, eats one doughnut and puts down a nickel tip. I'd do a fast slide onto his stool, yell for a cup of coffee, pay for it with his nickel and eat the other doughnut."
In the midst of poverty, Lucille met with tragedy. She had recurring pains in her leg and went to a doctor. He told her: "In a matter of weeks, you may he paralyzed for life." Alone and without money, she went to the hospital as a charity patient. There, she cashed in on her willingness to gamble. She volunteered to be a guinea pig for a new serum. The experiment ultimately was a success, and, after three years of bed, crutches and cane, she was displaying her legs for the chorus line.
A chance encounter with another chorus girl started her on a career. Exchanging trade gossip, the acquaintance told Lucille that one of the show girls scheduled to fly to California to be in Eddie Cantor's movie, Roman Scandals, had decided not to go. "They have to find another girl in a rush," she said. "They've got one," Lucille replied and she hurried over to the casting office and was hired.
For a long time, Lucille's beauty labeled her a show girl and she was classified with the scenery. In the movies, she was forever languidly floating down stairways in sparkling gowns and feathers. Her friend Carole Lombard - with whom she is often compared - introduced Lucille to Damon Runyon. He suggested her for the feminine lead in The Big Street. That, her natural talent and Walter Winchell's column bouquets helped boost Lucille to stardom.
But even a star over the dressing room didn't ward off accidents. During the filming of one movie, The Fuller Brush Girl, she had enough mishaps for quintuplets. She sprained both wrists (wrestling), displaced six vertebrae (falling from a fence onto a clothesline), pulled a muscle in her legs (walking with ankles bent, imitating a drunk). On the final day of shooting, she had a bad cold (from a wine drenching of three days). She had agreed to stop for a publicity picture on her way home to demonstrate a free-to-the-public X-ray machine. While she was posing, the X-ray technician gasped: "Pardon me, Miss Ball, the X-ray shows you have pneumonia. Did you know?" Miss Ball didn't. She was taken straight to the hospital.
Television is not without its accidents, either. During a rehearsal of I Love Lucy, she set fire to her dress with a cigaret but continued with the scene. "It was right in the middle of a good rehearsal and I was afraid to stop." she explains. Luckily, another member of the cast noticed the smouldering fabric and had no such compunction. Another time, the script called for a running leap toward Desi. She jumped, missed him and ricocheted 15 feet. Bruised, she got up and redid the scene.
Love-in-the-Limelight
Lucille and Desi have always enjoyed a "love-in-the-limelight" romance. Their courtship and wedding were as private as a movie premiere. They long have considered themselves in the public domain and apparently make every effort to remain there. The only attempt they ever made to shun publicity was during a flare-up and a brief separation which followed.
"Lucy and Desi melt into each other's arms every time they see a photographer," a Hollywood observer commented. "Yet it's not an act. They're truly in love."
It's logical, therefore, that a Cuban revolution should have played a part in bringing Desi and Lucille together - eventually. Young Desi left Cuba with his parents after the revolution. He went to school in Florida and later became a sensation for his Latin American music and singing. His soft accent added an extra something to his rumba. He met Lucille on the set of his first movie, Too Many Girls. Of their meeting, he says "I thought, what a hunk of woman." She reports, "He brought out my maternal instinct."
After a seven month courtship, conducted in Hollywood night clubs, Desi proposed to Lucille midnight on November 30, 1940 in New York. They eloped at once to Greenwich, Conn.
The day after their marriage, a magazine writer came to interview them in their New York hotel suite. Lucille was alone. Almost at once, she told the writer, "I'd love to let you copy the love telegrams we sent each other, but I'm afraid he would be mad if I made them public." But she couldn't resist displaying them.
There was a sound of a key at the door and Lucille swept the telegrams under a cushion as Desi walked in.
Desi's first suggestion for the interview was: "Let's use those love telegrams for the article." The telegrams promptly were brought out of their hiding place.
During another interview, Desi turned to Lucille and said: "Darling. I love you more than Anthony loved Cleopatra, more than..." Abruptly, he turned back to the reporter and asked: "Did you get that down? I'll repeat it. "Darling, I love..."
After nine years of marriage they were remarried three years ago in Desi's faith in the Catholic church near their home (Groucho Marx sent a wire: "What's new?")
"Desi's favorite hobby is taking pictures of Lucie Desiree. Lucie is the most photographed baby in town," says Lucille. "Desi sneaked his movie camera into the hospital and took shots of her in the nursery, and, since then he has made movies of everything she does."
The baby keeps Lucille busy too. On the nurse's first day off, she changed the infant 18 times in four hours. "I thought she had to be dry all the time," Lucille said.
Everything about their five-acre farm in the San Fernando Valley is tailored to their way of life. They love to entertain and have a separate play house equipped with a kitchen, a movie projection room, a piano and rustic barbecue tables. Here, the Arnazes often give costume parties for over 100 guests.
In the main house, which is ranch-style, there is a combination dining-living room where they entertain small groups of friends at dinner three evenings a week. They have one bedroom and Desi has a den and private dressing room. There is a separate wing for the nursery. Lucille spends a lot of time in the utility room - which she uses for a sitting room. Neatly ranged around its walls are a spare refrigerator, home freezer, automatic washing machine, iron, sewing machine and a few other mechanical contrivances. The room also contains complete beauty-shop equipment. "It's the room where I go to gab with the girls while I give them beauty treatments," says Lucille. "At heart, I'm a frustrated hairdresser." On her days off, she frequently gives friends permanents, egg shampoos, facials and oil manicures. She does her mother's and mother-in-law's hair.
Once, while being interviewed, Lucille was unable to take her eyes off the woman writer's shaggy dog hair. Finally, she begged the privilege of trimming it while she talked. The writer got a good story but lost four inches of hair.
Like almost everything else that Lucille and Desi own, the ranch is called by a combination of their names, Desilu. The same name labels their television production company, their station wagon, cabin cruiser and Desi's band.
And during quiet evenings at home, you are likely to find them supping on a nourishing dish of hamburgers, onions and tomatoes. It's called Desilu Goulash.