Husband to Lucille Ball Dies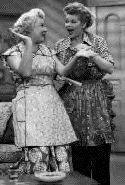 Husband to Lucille Ball Dies
CNN | April 1, 1999
PALM SPRINGS, California (CNN) -- Gary Morton, the comedian and television producer who was married to Lucille Ball until her death in 1989, died at his home in Palm Springs, a family spokesman said Wednesday.
The 74-year-old died of lung cancer.
Though more people knew of Ball's marriage to Cuban-actor Desi Arnaz because of the couple's TV show "I Love Lucy," Morton and Ball were married longer, nearly 29 years, according to Ball biographer Tom Gilbert.
Morton did appear occasionally on Ball's "The Lucy Show and "Here's Lucy." But he never had the exposure Arnaz did.
After Ball's death, Morton retired to Palm Springs and only made public appearances to attend tributes to Ball. He remarried three years ago and is survived by his second wife, Susie McAllister.