Lucy: The Life Behind The Laughter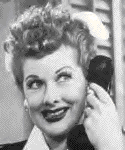 Lucy: The Life Behind The Laughter
By: Susan Schindehette, Suzanne Adelson,
Doris Bacon, Leah Feldon and Lee Wohlfert
People Magazine | August 14, 1989
She is at rest now surrounded by marble statuary and acres of velvet lawn, her place marked by a simple green plaque with the bronze lettering MORTON, and beneath it LUCILLE BALL 1911-1989. But the silence here at Hollywood Hills's Forest Lawn Memorial-Park seems odd; tranquillity, after all, was never Lucy's style.
On Sunday Aug. 6, Lucy would have been 78, but she isn't around to celebrate. It has been four months since death stilled that high-spirited, infectious laugh of hers. Instead, on the occasion of her birthday, here are recollections from some of those who knew her best - who knew her love, her loyalty and her leather-tough dedication to getting things done her own way. Not everyone loved Lucy, but most did, and even those who didn't usually came away with a grudging respect for the prickly genius that fueled one of the greatest comedic talents of our time.
Desi Arnaz Jr., 36, Lucy's son, now living in Boulder City, Nev., is the national spokesman for author Vernon Howard's nonprofit New Life Foundation, a self-development organization based in Ojai, Calif.:
-While I was growing up she tried to keep our lives simple in the midst of what was going on, tried to let us have a real life. I grew up at the studio behind the camera, climbing up ladders and running around the sound stage. But I understood right away about the difference between real life and television. I wasn't the one who was confused - other people were. They thought I was Little Ricky. But I knew Fred and Ethel didn't live next door - Jack Benny did.
-I just saw her as my mother. She wasn't totally a disciplinarian or taskmaster. Since Dad was no longer there [after 20 years, Lucy and Desi divorced in 1960], she felt she had a responsibility to the show. She had a lot of old-fashioned values that she got from her mother. My parents always said there's a lot more to life than how much money you have or how much you impress people.
-During the days I was doing drugs, they tried to help me. My father had a drinking problem; my mother was a person just like anybody else. When I went through drug and alcohol recovery seven years ago, they went through it with me. Sometimes people in the public eye don't want to reveal anything going on inside them in front of even one other person, and it was extraordinary that they did it. It got better for us after that. We could talk to each other more easily.
-We were really very close in those later years. Before her death, we were able to say everything we needed to say to each other.
-All along she said, "What's important in this life is to be happy and to enjoy your life and have a good relationship with somebody." She wanted to have a happy life. She did the best she could.
Charles Pomerantz was Ball's publicist for 38 years:
-She was absolutely gorgeous in the late '30s, and she worked in the garment district in New York as a model. They didn't make much money; she'd date these salesmen. She'd suggest restaurants where they served a lot of rolls. While nobody was looking she'd stuff a couple into her pocketbook.
-In those days they sold two doughnuts for a nickel, so for breakfast she'd go to the Mayflower Donut shop on Broadway and stand behind a guy she thought was a one-doughnut man. She'd slide onto his stool as he got up, eat the other doughnut, and that would be her breakfast.
-About that time one of her girlfriends told her that they were looking for Goldwyn girls out in Hollywood. She got packed in no time at all. Once she got there, Sam Goldwyn took a liking to her. And she never came back.
Ginger Rogers worked with Ball in the 1937 movie Stage Door:
-She was always very vocal, so everybody on the set knew what she liked and didn't like. Katie Hepburn was very quiet. Lucy was in awe of her.
Eve Arden also co-starred in Stage Door:
-At rehearsal, director Gregory La Cava passed out the scripts around the table to the cast of ingenues and said. "Anyone who finds a funny line, just read it." We were left to our own devices. I'd found a couple that I thought were funny, so I said, "Well, if no one's going to take these, I will. Lucy looked at me and said, "She's the one we have to watch out for."
Ann Miller starred with the then unpaired Lucy and Desi in 1940's Too Many Girls:
-Desi was teaching me how to rumba for the movie. [Producer-director] George Abbott invited me to go ballroom dancing one night to El Zarape, a popular L.A. restaurant where the rumba was fashionable at the time. I said to Lucille - who wasn't the cuckoo girl then; she was a glamour girl - "Why don't you and Desi come along with George and me?" They did. It was their first date. From that time on, the romance just clicked.
Tom Watson, Lucille's publicist for the last three years:
-After Too Many Girls was over, Desi met her at the airport in New York and asked her to marry him. They eloped to Connecticut, but they had to do it in a hurry because Lucy had a show in Manhattan that night. Then she went with him on his orchestra tour to Detroit, where they spent their honeymoon. She kept all the souvenirs from the hotel, the stationary, matches and all that.
Keith Thibodeaux, 38, played Little Ricky on TV's I Love Lucy:
-I can see why their marriage didn't make it. Desi was really a great guy when he wasn't drinking, but as kids we'd definitely stay away from him when he was drunk. Once I was sleeping over when he heard that the tutor had called Desi Jr. spoiled. We were awakened by a fist fight. That night, Desi came down and caught the guy talking to a girl in the living room and just beat him, badly. Desi Jr. and I hid in the maid's quarters. Then there was the I time he fired his gun into the air when he saw someone sitting on his beach property.
Ann Sothern met Ball in the 1930s:
-Like all great comics, she had a sad streak. When Desi was drinking a lot, she'd call me in the middle of the night and say, "Get the priest. Do something, Ann, do something."
Edie Adams, wife of the late Ernie Kovacs:
-Ernie and I were the last guests on the I Love Lucy show, and by that point Desi and Lucy weren't speaking to each other. Someone would come over and say, "Miss Ball would like you to do so-and-so, Mr. Arnaz."
Jack Carter was best man when Lucy wed nightclub comic Gary Morton in 1961:
-After her divorce she was going out every night with stage door johnnies, rich guys, boring people. She loved fun, so we brought Gary around. We went to some restaurant on Third Avenue in New York, and they just kept staring at each other. For days she kept calling him "that kid, what's his name, that guy, you know..." They were inseparable after that.
Lillian Briggs Winograd, who sang the 1955 hit "I Want You to Be My Baby," was Lucy's closest friend in her final years:
-She'd had a lousy situation with Desi's carousing and gambling for 18 years, and after the breakup she was going to leave the country and raise the children in Switzerland. That was going to be the end of it. She wanted out of Hollywood because everyone was always saying, "Poor Lucy!" on account of the way Desi had been. Then she met Gary, and she said the only thing she could remember, from the first minute they met, was that he made her laugh.
-He would always call to tell her where he was and ask, "Can I come home now?" It was everything Desi never did. She never dwelled on it, but she'd mention how the police used to drop Desi off at the back door so it wouldn't get into the newspapers.
Charles Pomerantz:
-She counseled a number of actresses when they got their divorces. She told them, "If you're in the public eye, the greatest problem you're going to have is that the men you attract are going to feel castrated." She could have had anybody. I saw Gary Morton on the set one day and asked her, "What's going on?" She said, "He needs me."
Betty White, Lucy's friend since 1956:
-The day that Desi died [in 1986] she and I were doing Password together. She was being real funny on the show, but during a break she said, "You know [her language was always salty] it's the damnedest thing. Goddamn it, I didn't think I'd get this upset. There he goes." It was a funny feeling, kind of a lovely, private moment.
Michael Stern, 28, a Los Angeles furniture salesman who briefly worked as Lucy's personal assistant and was considered by Ball to be her biggest fan:
-In London this past February I was able to slip up to Queen Elizabeth at a public tree-planting ceremony in Kensington Gardens. I said, "Back home in the States I work for Lucille Ball," and the Queen smiled and said, "Tell her I said hello and asked how she was doing." After I got home, I told Lucy about that. She said, "The Queen knows who am?" She called Gary and said "Guess what! The Queen told Michael to ay hello to me!" She was as excited as a kid.
-On the other hand, once [in 1986], she was doing Joan Rivers's show with Nancy Reagan. One of Mrs. Reagan's entourage came into the dressing room and said, "Mrs. Reagan would like to see you now, Miss Ball." Lucy looked at her and said, "Okay. Send her in."
Jack Carter:
-Directing Lucy was like trying to flag down the Super Chief with a Zippo lighter. When we got to air on the last show we did, she'd restaged the whole thing without telling me: The bank was over here, the chair was this way. You had to really be a stage Door cop for her. Keep the traffic moving and stay out of her way. Every good director who lasted with her, like Jack Donahue, knew how to roll with the punches. When she yelled at him, he'd turn to the crew and say, "Did the redhead say something? Did she yell at me? I could have sworn I heard her say something."