Comedienne Gives Birth to 8 1/2-Pound Boy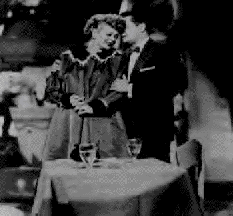 Lucille Ball Adheres to Television Script:
Comedienne Gives Birth to 8 1/2-Pound Boy
By: Jack Gould | New York Times - January 19, 1953
HOLLYWOOD Calif., Jan. 19 (UP) - Lucille Ball, the actress, followed the script of her "I Love Lucy" television show to the letter today by giving birth to a boy at Cedars of Lebanon Hospital.
The baby, named Desiderio Alberto Arnaz 4th was born at 11 A.M., Eastern Standard Time, by Caesarean section. The child weighed eight pounds, nine ounces.
Mother, baby, father, the producer of the TV show, script writers and thousands of fans across the nation all were doing "just fine" after hours of worry over whether Miss Ball would live up to the plot of the show on which she and husband, Desi Arnaz, appear.
An episode previously filmed for nationwide television tonight called for the couple to have a boy.
Mr. Arnaz, after pacing the floor for hours and stamping out countless cigarettes, was jubilant over the new arrival.
"It's a boy," he declared. "Now we have everything."
Miss Ball, whose pregnancy was followed by millions of televiewers because it was included in her show's plot, entered the operating early today. She and her husband said that "if it's a boy - swell, but if it's a girl, the producers of 'I Love Lucy' will just have to write it off to artistic license."
Mrs. Desiree Ball, mother of the comedienne, peeked at the baby and said: ''It has a pug nose just like Lucy."
The first question Miss Ball and her husband asked was: "Is it a boy?"
Tonight's show was filmed last November. It was just a coincidence that the Caesarean operation was scheduled for the same day.
"We really don't care what it is, but as long as we already have a girl, it would be nice to have a boy," Miss Ball said before the operation. "I'll have one on television, anyway."
As it turned out, the Arnazes got their wish.
Jess Oppenheimer, producer of the show, decided last fall to make the program parallel Miss Ball's pregnancy. The plot was complete, with filmed episodes about her craving for papaya milk shakes and Desi's sympathetic morning sickness.
"We had a rabbi, a priest and a minister on the set and they approved the pregnancy series," Mr. Arnaz said. "We made no attempt to hide Lucille's condition. She wore maternity dresses just as she did in real life."
The post-baby episodes of the series, starting with next week's program, were filmed last summer before Miss Ball looked like an expectant mother. The show's backlog of films will last until the end of March.
The actress plans to resume work in about two months, a spokesman for Desilu Productions said.