The Sixth Season 1956-57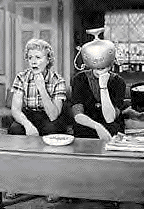 154-Lucy Meets Bob Hope
Ricky is opening a new club, and he wants Bob Hope to appear at the grand opening. Lucy fears Hope won't appear because of her widespread reputation for monkey-wrench throwing, and wants to reassure him that this time she's butting out.
155-Lucy Meets Orson Welles
Orson Welles is going to perform his magic act in Ricky's club. He asks Ricky if Lucy will help him. Ricky has had one too many of Lucy's screwball antics and is only too happy to push her off to Florida. When Lucy meets Welles and accidentally learns of the chance she is missing, she cancels her trip and gets a drama class to come and watch her do Shakespeare with Welles. Orson Welles guest-stars as himself, along with Ellen Corby from "The Waltons."
156-Little Ricky Gets Stage Fright
Little Ricky is scheduled to play the drums in a children's orchestra. Although his parents and their friends the Mertzes are overcome with nervousness, Little Ricky seems calm until his big moment arrives; then he goes to pieces. His next performance is six months away, but Lucy feels she must do something about his stage fright now. Howard McNear, who played Floyd the barber in "The Andy Griffith Show," guest-stars.
157-Little Ricky Learns to Play the Drums
Lucy suddenly decides her son is going to be a doctor, but Ricky wants him to be a band leader like himself. They agree to resolve the question by giving him a toy doctor's uniform and a drum and seeing which he prefers. The fact that the boy chooses the drum changes nothing as far as Lucy is concerned. (Historical note: Before taking on the acting role of Little Ricky, Keith Thibodeaux was known as "The World's Tiniest Professional Drummer.")
158-Visitor From Italy
Mario, the Ricardos and Mertzes' gondolier in Venice, comes to New York to surprise his brother Dominic, but turns up at the Ricardos' apartment when he can't find him. Lucy is sure Dominic is in San Francisco and sets out to help Mario raise the bus fare. Her earnest efforts pay off in a surprising way. Look for Lucy's classic pizza-making scene in this episode.
159-Off to Florida
When Lucy misplaces two train tickets to Florida, she and Ethel consult the classified section, hoping to share a ride with someone driving south. They team up with a peculiar middle-aged woman, Mrs. Grundy, who's bent on getting to Florida in record time. Elsa Lanchester, who played the original "Bride of Frankenstein," guest-stars as Mrs. Grundy in this episode.
160-Deep Sea Fishing
When the Mertzes and the Ricardos vacation in Florida, women's shopping habits versus men's fishing prowess becomes an issue.
161-Desert Island
On a pleasure cruise, Lucy manages to have the boat run out of gas to keep Fred and Ricky from judging a "Miss Miami Beach" beauty contest. The Ricardos and the Mertzes find themselves adrift on the Atlantic. Eventually they land on a desert island, where Lucy promptly runs into trouble. Claude Akins, who later went on to play TV's Sheriff Lobo, guest-stars as himself in this episode.
162-The Ricardos Visit Cuba
Still on their vacation, the Ricardos go to Cuba, where Ricky wants to introduce his relatives to Lucy and Little Ricky.
163-Little Ricky's School Pageant
Little Ricky makes his acting debut in a school play. This lavish children's pageant in the Enchanted Forest is complete with elves, owls, bunnies, and Lucy as a broom-riding witch. The episode includes a special cameo by Fred Mertz as Hippity Hoppity, the friendly frog.
164-Lucy and the Loving Cup
Ricky's disapproval of Lucy's new hat leads to her trying on a loving cup which Ricky has planned to present to jockey Johnny Longden at a National Turf Association dinner. The problem is that Lucy can't get the trophy off her head. Look for Lucy's classic ride on the Lexington Avenue subway in this episode.
165-Little Ricky Gets a Dog
The Ricardos' apartment begins to resemble a pet shop when Little Ricky gets a puppy. Lucy and Ricky are both determined to get rid of the puppy after their son brings it home -- as are their landlords, Fred and Ethel. They have a hard time overcoming Little Ricky's arguments that a puppy would be a welcome addition to a home that already boasts a canary, a frog, a lizard, a turtle, and some goldfish.
166-Lucy and Superman
When another boy has a birthday party the same day as Little Ricky's, Lucy looks for unusual entertainment to lure the children. Ricky remembers that Superman is in town, and he invites him. When Ricky is unable to corral Superman, Lucy is left with no choice but to dress as the Man of Steel herself. George Reeves makes a special guest-star appearance in this episode.
167-Lucy Wants to Move to the Country
Lucy decides that it would be nice to move to the country and prevails on Ricky to place a comfortable deposit on a big house. Ricky agrees and puts a down payment on a house in Westport, Connecticut. It is not long before Lucy changes her mind. Lucy, Ethel, and Fred put on disguises to try and help poor Ricky get his deposit back.
168-Lucy Hates to Leave
Lucy hates to leave behind her old friends Fred and Ethel, who also happen to be her landlords. But Ricky has told her to sell all their furniture. Lucy hates to part with her furniture almost as badly as she hates to part with the Mertzes. She persuades them to keep the furniture in their apartment, promising that it's "just until we can move."
169-Lucy Misses the Mertzes
As the Ricardos get settled in their new country home, they immediately wind up in a mix-up with their old friends Fred and Ethel Mertz. Missing their old friends already, Lucy and Ricky decide to visit the Mertzes. At the same time, the Mertzes decide to trek to the country to visit the Ricardos, and what began simply becomes complicated.
170-Lucy Gets Chummy With the Neighbors
With the best intentions in the world, Lucy somehow causes a misunderstanding with her neighbors, the Ramseys. It all starts when Betty Ramsey offers Lucy some advice and a wholesale deal on furniture. For a time, the Ricardos' whole future at their Connecticut home seems threatened. In this episode, Frank Nelson and Mary Jane Croft make their debut as the Ramseys.
171-Lucy Raises Chickens
The Mertzes find a way to stay with the Ricardos: chicken farming. But the scheme puts Lucy over her head in chickens when she and Ethel bring home 500 baby chicks before the hen house is ready.
172-Lucy Does the Tango
Chicken-raising and practicing a tango for Little Ricky's school PTA meeting combine to get the Ricardos and the Mertzes in a verbal battle. It's up to Ricky, Jr. and his neighborhood pal Bruce Ramsey to straighten things out. (The scene where Lucy and Ricky do the tango resulted in the longest recorded studio audience laugh in the history of the show.)
173-Ragtime Band
Lucy decides to take part in the fundraising campaign of the Westport Historical Society, and offers to get her husband and his band to perform for their kickoff function. There's only one hitch -- Ricky won't do it. So Lucy decides to form her own band featuring herself, Little Ricky, and Fred and Ethel Mertz. Look for the classic song, "Man Smart, Woman Smarter," sung by Ricky.
174-Lucy's Night in Town
After spending six whole weeks in their new Connecticut home, Lucy dreams of a night in New York City and it turns into a nightmare. Four carefully hoarded tickets to the Broadway musical hit "The Most Happy Fella" are supposed to get the Ricardos and the Mertzes in to see the sold-out show. But difficulties arise when Fred Mertz gets nervous about pickpockets because he's carrying $500 in cash in his pockets.
175-Housewarming
Fred Mertz installs an intercom system between the Mertz guest-house and the Ricardo main house. The intercom causes some confusion when Lucy and Ricky overhear what they believe to be plans for a housewarming party given for them. Look for a classic bout of jealousy in this episode as Lucy and Ethel make new friends.
176-Building a Bar-B-Q
Lucy has a problem deciding what to do to get her vacationing husband, Ricky, out of her hair so she can do her housework. She and Ethel solve the problem by putting their husbands to work building a barbecue. In this episode Lucy loses her wedding ring and Ricky tries to teach her a lesson.
177-Country Club Dance
The Ricardos and the Mertzes go with their neighbors, Ralph and Betty Ramsey, to the country club dance. A pretty visitor quickly convinces the men they are Romeos in disguise. This development forces the women into glamorous clothing and beauty treatments to prove that they, too, can be glamorous. Barbara Eden guest-stars.
178-Lucy Raises Tulips
Suburban living gets Lucy into a flower-show competition, and she raises tulips with a vengeance as she tries to beat out her neighbor, Betty Ramsey, for first prize. Lucy asks Ricky to mow the lawn so that her garden will look just right. But he only mows half before taking off for a baseball game, leaving Lucy and Ethel to tiptoe through the tulips -- with the lawnmower.
179-The Ricardos Dedicate a Statue
Lucy joins a community effort to establish a Revolutionary War monument. She manages to shatter any dreams she may have had of becoming a community leader when the statue is broken. Her efforts to undo the damage put her in a unique position when the time comes to unveil the statue. This is the only episode where the Arnazes' real children, Lucie Arnaz and Desi Arnaz, Jr., make a cameo appearance.