The Fifth Season 1955-56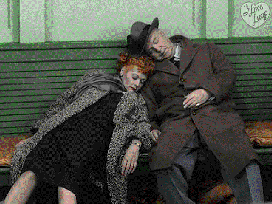 128-Lucy Visits Grauman's
With only a week left in Hollywood, Lucy weeps about her lack of souvenirs. Her collection already includes a tin can run over by Cary Grant's rear tire, a napkin boasting Lana Turner's lip-prints, and a few other goodies. But when Lucy discovers that John Wayne's concrete block at Grauman's Chinese Theatre is loose, she decides to take home a souvenir to end all souvenirs.
129-Lucy and John Wayne
Lucy is spotted while attempting to "collect" a cement block with John Wayne's footprints from Grauman's Chinese Theater. To avoid publicity and keep Lucy out of jail, Ricky enlists John Wayne's help in replacing the block. One mishap leads to another, and the plot thickens -- as does the cement. John Wayne guest-stars.
130-Lucy and the Dummy
When Ricky refuses to entertain at a studio party, Lucy accepts in his place, planning to do a straight dramatic role with a dummy. The audience pans her performance, but the studio is eager to sign her up as a comedienne. In this episode, Lucy Ricardo is offered what Lucille Ball once had in real life: a contract with MGM.
131-Ricky Sells the Car
Ricky sells his car, and the Mertzes think they are being stranded in California. Ricky buys train tickets for everyone, but a reservations mixup puts Lucy in an apparently compromising position with Fred Mertz. Watch for Fred and Ethel decked out in motorcycle gear and riding on a Harley.
132-The Great Train Robbery
Unaccustomed to train travel, Lucy is sure her trip to New York will be filled with intrigue and romance. When she hears that a jewel thief is on board, she sees herself as the possible heroine of the situation. Lucy finds all the excitement she was looking for, but not where she looked for it.
133-Homecoming
On their return from Hollywood, Lucy has her hands full with Ricky when he is hailed as a major celebrity. The Ricardos' neighbors join in for a grand homecoming celebration in Ricky's honor. Even the Mertzes begin to see Ricky through new eyes as adulation is heaped on him. When Ricky begins to succumb to the nonsense and go "Hollywood," Lucy begins to worry.
134-Person to Person
Ricky Ricardo's new fame leads to an invitation to appear on the popular interview program "Person to Person," and Lucy and Ricky consider moving. Ricky's agent arranges an appearance for him and suggests that they stage a fight so Lucy and Ricky won't have to stay. In the end the scheme falls flat while "Person to Person" is on the air.
135-Lucy Goes to the Rodeo
Ricky, scheduled for a radio stint, reluctantly turns down Fred's offer to appear in an amateur radio show. Lucy volunteers to help out, and she and Fred whip up a Western act. Ricky then discovers it's the rodeo, not the radio show, that he's booked for. With no time to prepare, Ricky has to give Lucy a moment in the spotlight. This episode features "Lucille McGillicuddy and Her Western Bell Ringers" performing "Down by the Old Mill Stream."
136-Nursery School
When Ricky finds Lucy exhausted after a trying day with Little Ricky, he insists that it's time their son attend nursery school. Lucy's protests are overridden, and Ricky takes young Ricky to nursery school. But after the first day, the boy comes down with tonsillitis. Lucy promises Little Ricky that she'll spend the night with him at the hospital, and when hospital regulations prevent this, Lucy hatches her own plot to circumvent the rules.
137-Ricky's European Booking
Ricky is offered a European booking which is too important to refuse, but he can't afford to take Lucy with him. Lucy is furious at the prospect of being left behind. When Ricky wants to take Fred Mertz along as the tour manager, Ethel, too, becomes incensed. Finally Ricky tells the girls they can go if they can raise the money for their passages.
138-Passports
Lucy and Fred are unable to produce their birth certificates to get passports for the Ricardos and Mertzes' European jaunt. They both call their hometowns for their birth certificates but discover that none exist for them. In order to get passports to accompany Ricky on his European tour, they must find people who have know them and their families for twenty years and can prove they were born. This proves to be easier said than done, and Lucy decides to stowaway in a steamer trunk rather than miss the boat.
139-Staten Island Ferry
Fred's fear of becoming seasick threatens the Mertzes and Ricardos' plans for Ricky's European band tour. To prove that Fred won't get seasick, Ricky takes him down to the ship, which is anchored in the harbor. But Fred turns green and becomes more firm about his not going. Lucy and Ethel test some new, improved seasickness remedies on the Staten Island Ferry. The trial run leads to unexpected complications when Lucy gets seasick.
140-Bon Voyage
Ricky, Ethel, and Fred are aboard their ship to Europe when Lucy rushes down the gangplank for one last goodbye to Little Ricky, who will be in Lucy's mother's care while she is in Europe. The ship heads out to sea, leaving Lucy frantically trying to catch up with it. Jack Albertson, from "Chico and the Man," guest-stars.
141-Lucy's Second Honeymoon
Lucy looks forward happily to romantic evenings and daytime deck games as the Ricardos and the Mertzes sail for Europe. However, she ends up looking on lonesomely as everyone else on shipboard pairs off; Ricky's band is scheduled to play practically every minute of the day and night. Finally Lucy enlists Ethel's aid in a plan to get some time alone with Ricky. Listen for the classic Ethel quote, "The love bug has bitten my Freddie."
142-Lucy Meets the Queen
Lucy is thrilled at being in London and desperate to see the Queen. She misses the Queen at Buckingham Palace, where she gets involved in the changing of the guard. Ricky is invited to meet the Royal Family when they attend a special performance at the Palladium. Lucy is not included in the invitation, but she has no intention of letting it go at that. Nancy Kulp, who played Miss Hathaway on "The Beverly Hillbillies," guest-stars in this episode.
143-The Fox Hunt
Lucy is torn between spending a weekend fox-hunting and her jealousy of a beautiful blonde starlet. She plots to get Ricky out of London and away from the blonde by persuading Sir Clive Richardson, a movie producer, to invite the Ricardos and Mertzes to his estate in the English countryside for the weekend. Lucy is shocked to discover that the blonde starlet is Sir Clive Richardson's daughter.
144-Lucy Goes to Scotland
The Ricardos and Mertzes are on their way to Paris, but first Lucy wants to go to Scotland to seek members of the McGillicuddy family into which she was born. In a classic dream sequence, Ricky appears as Scotty MacTavish MacDougal MacCardo.
145-Paris at Last
Equipped with an English-French dictionary, Lucy sets out to see Paris and "discover" an artist whose paintings will become very valuable -- she knows she has "the eye." Lucy's first encounter is indeed with an artist -- a con artist who changes her American money for French. Lucy's adventures land Lucy, Ethel, and Fred in jail. Look for Lucy's classic first encounter with an escargot.
146-Lucy Meets Charles Boyer
While sightseeing in Paris, the Ricardos and Mertzes are sitting in a sidewalk cafe that Charles Boyer is known to frequent. Lucy thinks she has spotted Boyer and turns to jelly, but Ricky convinces her she's wrong. Lucy thinks that Ricky is jealous. She enlists the help of "Pierre Smith," who looks enough like Boyer to be him (and unknown to Lucy, actually is him). To convince Ricky that she really loves him, not Boyer, Lucy intends to reject "Boyer's" advances. Charles Boyer guest-stars as himself.
147-Lucy Gets a Paris Gown
Lucy decides to go on a hunger strike until Ricky agrees to buy her a designer dress. The plan works perfectly (even though Ethel has been smuggling food to Lucy) and Ricky finally gives in and buys her an expensive outfit. But when Ricky discovers what Lucy has been up to, he puts together a crazy outfit made of burlap and passes it off as a Paris original.
148-Lucy in the Swiss Alps
When band manager Fred fouls up by sending the orchestra to Locarno, Switzerland instead of Lucerne, Lucy tries to appease Ricky by suggesting a healthy hike in the Alps. All goes well until an unexpected snowstorm forces the Ricardos and the Mertzes into a deserted mountaintop cabin. Lucy slams the cabin's door and sets off an avalanche, trapping the two couples for five hours. They are saved from certain death by a Bavarian band playing "La Cucaracha."
149-Lucy Gets Homesick
Fred is conscience-stricken about the expense involved when he misrouted Ricky's band. He books second-class train passage for their overnight trip to Florence and a fourth-class hotel for their stay. Lucy wants to call home to see if Little Ricky has received the birthday presents she sent him from London, but the difficulties of calling from a fourth-class room almost prove too much for her. In the end, Lucy invites an Italian shoeshine boy and his friends to celebrate Little Ricky's birthday.
150-Lucy's Italian Movie
En route to Rome by train, Lucy is spotted by a famous Italian cinema director and chosen to play a part in his new movie "Bitter Grapes." Lucy sets out to immerse herself in the role. When she nonchalantly wanders into a vineyard inhabited by a motley assortment of Italian-speaking women, she is dispatched to the wine-making area to crush grapes with her feet. This episode has the classic scene of Lucy in the wine vat.
151-Bicycle Trip
The Ricardos and the Mertzes are bicycling from Italy toward the French Riviera. When they get to the Italian/French border, everyone but Lucy is permitted to cross. Lucy realizes that her passport has been left behind -- but even when the passport is found, it looks as if Lucy will never get across the border. Look for Fred and Ethel on a tandem bicycle in this episode.
152-Lucy Goes to Monte Carlo
Ricky is working in Monte Carlo, but Fred goofs and negotiates too little money for the engagement. Lucy and Ethel go to the casino to watch, and Lucy finds a chip that someone dropped. She picks it up and puts it on the table. The chip wins, and continues to do so, all by accident. Since Ricky warned Lucy to stay away from the casino, she hides the money in Ethel's trunk. Ricky finds it and thinks Fred has been holding out on him. "I Love Lucy" writer and recurring extra, Bob Carroll, Jr., appears in this episode as the gambler wearing the fez.
153-Home From Europe
The Ricardos and Mertzes need to return to the U.S. by plane instead of ship. The 60-pound-per-person baggage limit taxes Lucy's ingenuity: she has bought lots of clothes and souvenirs, including a 30-pound cheese. She boards the plane wearing all the clothes at once and carrying the cheese as a "baby."