The Fourth Season 1954-55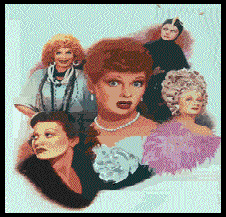 100-Business Manager
Ricky hires a business expert to solve the family budget problems. The expert places Lucy on a strict allowance. Lucy manages to find a loophole in the new restrictions, and in her inimitable way she not only adds to the financial dilemma but ends up tossing the financial wizard out.
101-Mr. and Mrs. Television Network
Ricky is initially reluctant to host a new TV show when he learns that the sponsor prefers a husband-and-wife format. Nonetheless, he agrees to do the show. But when Lucy learns that he hadn't wanted her in the show at all, she decides to get even by sabotaging the "Breakfast with Lucy and Ricky" dress rehearsal. What Lucy doesn't know is that the so-called rehearsal is actually being broadcast to the entire city of New York in an effort to achieve an unrehearsed, spontaneous look. Classic Lucy quote: "Phipps is a great big bunch of gyps."
102-Mertz and Kurtz
To help her neighbors, the Mertzes, impress a guest, Lucy goes into service as a maid. As "Bessie the Domestic," Lucy dishes out large servings of faux pas when she forgets her duties and enters into the conversation.
103-Ricky's Movie Offer
Lucy mistakes a talent scout for a masher and nearly ruins Ricky's chance at a film career. Then she realizes who the scout is, and tries to make amends. This episode sets the stage for the Ricardos and Mertzes' trip to California.
104-Ricky's Screen Test
The term "helpmate" takes on a new meaning when Lucy appears on a Hollywood movie lot. The cameras roll for Ricky's screen test -- but when the big moment arrives, Lucy takes the cue. Classic Lucy quote: "Hark! Do I hear a football? Is it you, Don Juan?"
105-Lucy's Mother-In-Law
Lucy meets her Spanish-speaking mother-in-law for the first time. Lucy's inability to cope with a foreign tongue, and her mother-in-law's inability to understand Lucy's pantomime, build a wall of misunderstanding between the pair. Mary Emery makes her first and only appearance as Ricky's mother in this episode.
106-Ethel's Birthday
Despite Ricky's qualms, Lucy decides to help Fred pick out a birthday present for Ethel. The present turns out to be toreador pants, which Ethel decides are not only unflattering but "unfitting." Relations between the two women become strained almost to the shattering point. Classic Lucy quote: "Happy birthday, Mrs. Mertz, and I hope you live another seventy-five years!"
107-Ricky's Contract
As Ricky paces the floor awaiting word from Hollywood about his screen test, Lucy enlists the Mertzes to distract him. The drastic steps taken by the trio to alleviate Ricky's tension boomerang into a king-sized headache for them all.
108-Getting Ready
A movie contract for Ricky necessitates a change in scenery and the hanging of a "for rent" sign on the Ricardos' New York home. Lucy plans the most effective way for Ricky to make a "Hollywood entrance." She envisions their arrival in a royal chariot. The Mertzes, willing to give up tenants but not friends, sign on for the trip. This episode features a rare glimpse of the front of the Mertzes' apartment building.
109-Lucy Learns to Drive
Preparing for their trip West, the Ricardos buy a new car, and Lucy wants to drive it around the block. After giving her one driving lesson Ricky is a beaten man, but Lucy is so confident that she offers to teach Ethel Mertz how to drive. The result is a complete fiasco. (The 1955 Pontiac convertible seen in this and following episodes was part of a product placement deal with General Motors.)
110-California, Here We Come
Lucy's mother wants to join the Ricardos on their driving trip out West. Ricky blows his stack when he hears that his mother-in-law wants to go along, and he rages about everyone's horning in on the trip -- the Mertzes included. Kathryn Card makes her debut as Lucy's mother in this classic episode.
111-First Stop
The Ricardos and Mertzes have a hard time finding accommodations that will please everyone on their trip to California. They finally hit a greasy restaurant where stale cheese sandwiches cost them a dollar apiece. Hoping to find something better elsewhere, Ricky pays the check. The couples leave -- only to return several hours later, fooled by some purposely misleading road signs. This episode marks the first time the "I Love Lucy" crew ventured out of the studio for a shoot.
112-Tennessee Bound
The Ricardos and the Mertzes are arrested for speeding in Bent Fork, Tennessee. Ricky decides to pay the fifty-dollar fine and leave, but Lucy feels they have been taken advantage of. When she rebels, the sheriff imposes a twenty-four-hour sentence and throws them in jail. Tennessee Ernie Ford guest-stars.
113-Ethel's Hometown
The Ricardos and the Mertzes stop at Ethel's hometown: Albuquerque, New Mexico (Vivian Vance's real-life hometown). Under the impression that Ethel has been called to Hollywood and not Ricky, the townsfolk accord her a monumental ovation. When Ethel refuses to disillusion them -- and even goes so far as to put on a "celebrity act" -- Lucy takes matters into her own hands.
114-LA at Last
Lucy arrives in Hollywood with stars in her eyes. She heads for The Brown Derby, a celebrity hangout, where she encounters Eve Arden and William Holden -- and inadvertently presents Holden with a custard pie in the face. Hollywood legends William Holden and Eve Arden guest-star as themselves.
115-Don Juan and the Starlets
Lucy is forced to lend Ricky to five dazzling starlets for a proposed evening of publicity pictures. She tries to wait up for him but falls asleep on the sofa and doesn't awake until late the next morning. When she finds Ricky's bed unused, she jumps to the conclusion that he spent the night out with the starlets and decides she wants a divorce.
116-Lucy Gets in Pictures
Lucy finally gets her big break when she snares a bit part in an MGM motion picture. Cast as a showgirl who meets death while parading down a long flight of stairs in a glamorous nightclub setting, Lucy vows to make her death scene the most unforgettable one ever recorded by Hollywood cameras. It is.
117-The Fashion Show
Mrs. William Holden, Mrs. Dean Martin, Mrs. Gordon MacRae, Mrs. Richard Carlson, Mrs. Van Heflin, Mrs. Forrest Tucker, famed couturier Don Loper, and a scarlet-skinned Lucy Ricardo are the contributors to a dazzling fashion show. The charity benefit, hosted by Loper and featuring the wives of motion picture stars, is a sheer burst of good fortune for Lucy, who is eager to perform before an audience.
118-The Hedda Hopper Show
Lucy takes a dive in an effort to further Ricky's career by creating a big splash in Hedda Hopper's Hollywood column. Her scheme turns out to be "all wet" in an adventure that could only happen to Lucy and Ethel. Hedda Hopper, the renowned Hollywood gossip columnist, guest-stars as herself.
119-Don Juan is Shelved
An item in Variety hints at the imminent cancellation of Ricky's picture "Don Juan," and proves to be correct. Lucy, the Mertzes, and Mrs. McGillicuddy take matters into their own hands by penning five hundred fan letters to Ricky and dressing as bobby-soxer members of the Ricky Ricardo Fan Club. Phil Ober, Vivian Vance's first husband, makes a cameo as film producer George Spelvin in this episode.
120-Bull Fight Dance
Lucy literally blackmails Ricky into getting her a part in one of his guest appearances on television. He does get her a role -- as a bull. When Lucy is displeased with the turn of events, she transforms the bull's image from that of a snarling beast to a mincing creature resembling Elsie, the Borden Cow. Look for the classic scene where Lucy upstages Ricky in this episode.
121-Hollywood Anniversary
Frantic over having forgotten the date of their wedding anniversary, Ricky tells Lucy that he has a big party planned in a famous nightclub. He doesn't tell her when it is, desperately wiring their marriage license bureau for the correct date. This episode is based on an actual surprise anniversary party that Desi Arnaz threw for Lucy.
122-The Star Upstairs
Cornel Wilde becomes the one-hundredth movie star Lucy has seen in Hollywood; he is living in the penthouse directly above the Ricardo suite. Determined to get a glimpse of the handsome actor, Lucy disguises herself as a bellboy, then hides under the star's luncheon cart to gain entry into Wilde's suite. Things go smoothly until she finds herself locked out on Cornel's terrace and must make her way down the side of the building using a few blankets as rope. Swashbuckler Cornel Wilde guest-stars as himself in this episode.
123-In Palm Springs
Simultaneous marital tiffs in the Ricardo and Mertz households drive Lucy and Ethel off on a mateless vacation to one of California's desert playlands, where they encounter Hollywood legend Rock Hudson (guest-starring as himself).
124-Harpo Marx
Lucy decides to impersonate some Hollywood notables to impress a nearsighted girlfriend visiting from New York. A mixup occurs when Lucy, having introduced her friend to "Gary Cooper," "Clark Gable," "Marlon Brando," and "Jimmy Durante," decides to impersonate Harpo Marx just as the real Harpo arrives at the apartment with Ricky.
125-Dancing Star
Lucy begs Van Johnson to let her dance a number with him at the nightclub to impress her rival Carolyn Appleby, who is visiting from New York. Van accepts the challenge by waltzing her across the ballroom floor as his dance partner. Movie star Van Johnson guest-stars as himself.
126-Ricky Needs an Agent
Lucy decides that Ricky needs an agent to negotiate more money and cut down on his fruitless personal appearances. She appoints herself to the post. Her action results in the studio canceling Ricky's contract, and Lucy's efforts to save the situation only make matters worse. Don't miss a classic outburst of Cuban temper in this episode.
127-The Tour
Lucy and Ethel are abandoned by their sightseeing bus tour when they try to get a grapefruit from Richard Widmark's garden. When Lucy is stranded inside the garden wall, she and Ethel, who is outside, launch plans to get Lucy out -- but without comparing notes on how. Film star Richard Widmark guest-stars as himself.