The Second Season 1952-53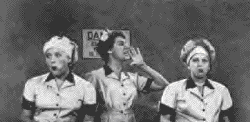 39-Job Switching
Convinced that they need to do something more lucrative than keep house, Lucy and Ethel get jobs in a candy factory. The girls are forced to work at a conveyer belt that brings the sweets to them faster than their unskilled hands can pack them. This episode is a classic among classics.
40-The Saxophone
Determined to accompany her husband on a tour with his band, Lucy represents herself as a skilled performer on the saxophone. Unfortunately, Lucy blows another chance to be in the show with an off-key rendition of "Glow Worm."
41-Vacation From Marriage
The Ricardos and Mertzes decide that their marriages are in a rut. A library book suggests a "week's vacation from marriage" as the solution. Lucy moves in with Ethel, and Fred with Ricky. Their newfound freedom creates a difficult situation.
42-The Courtroom
On the occasion of the Mertzes' 25th wedding anniversary, Lucy and Ricky present them with a television set that doesn't work. This generates a feud between the two families -- and an explosive courtroom scene. Watch the landmark case of Mertz vs. Ricardo in this episode.
43-Redecorating
A visit to the "Home Show" prompts Lucy and Ethel to enter a contest where the winner gets five rooms of new furnishings. All the wives have to do is sit by the phone and wait to see if they won. Fred makes a phony phone call to Lucy and tells her that she's won so she won't sit by the phone anymore. This causes Lucy to sell all her furniture and then demonstrate how not to put up wallpaper.
44-Ricky Loses His Voice
When Ricky arrives home with a bad case of laryngitis, Lucy banishes him to bed. However, Ricky is concerned about the imminent reopening of the Tropicana; Mr. Chambers, his new boss, is counting on him to stage a good show. Lucy decides to stage the show herself and let Ricky rest. This episode finds Fred and Ethel in harmony for once, singing "Carolina in the Morning."
45-Lucy Is Enciente
Constant interruptions -- the telephone, neighbors, and Ricky's nightclub co-workers -- frustrate Lucy's every attempt to talk quietly with her husband. Finally she is forced to go to the nightclub to tell him she's going to have a baby. This episode is a Classic TV milestone.
46-Pregnant Women Are Unpredictable
Expectant Lucy creates a pandemonium in the Ricardo household with the unpredictable demands she makes on her adoring husband. Lucy is overwhelmed by Ricky's considerate treatment of her, but confuses him when she becomes suspicious of his attentions.
47-Lucy's Show Biz Swan Song
Despite her "condition," Lucy is determined to participate in a Gay Nineties Revue. Enlisting Ethel's aid, Lucy tries to contrive an appropriate costume and finally comes up with a barrel. Pepito the Spanish Clown, a longtime Arnaz family friend, makes a special appearance.
48-Lucy Hires an English Tutor
Determined to have a well-spoken offspring -- though its arrival is several months away -- Lucy hires a tutor, Mr. Livermore. In return for his services, she lets him sing a song of his own writing at Ricky's nightclub. This is the episode with the ridiculous "Tippy Tippy Toe" song.
49-Ricky Has Labor Pains
When Ricky feels jealous of all the attention Lucy is getting, she decides to throw Ricky a "daddy shower" -- but Fred turns it into a stag party. A little apprehensive about the turn of events, Lucy decides to crash the daddy shower disguised as a newspaper reporter with Ethel posing as her photographer-partner.
50-Lucy Becomes a Sculptress
Lucy decides that their unborn child should have artistic leanings. Salesmen in an art supply store put her to work on a lump of clay, and she uses the Mertzes as models for a modernistic creation. Art critics laud her weird effort as a masterpiece.
51-Lucy Goes to the Hospital
Lucy approaches the zero hour and is rushed to the hospital to have her baby. Ricky carefully works out an elaborate plan with his neighbors, Ethel and Fred, whereby each is supposed to know exactly what to do "at the psychological moment." When the big moment arrives, bedlam breaks loose. Little Ricky and Classic TV history are born in this episode.
52-Sales Resistance
Lucy buys a tricky kitchen gadget in response to a TV pitch. Ricky accuses all women of having no sales resistance. Lucy retaliates by demanding to know why Ricky bought a 20-foot rubber life raft. Guest star: Sheldon Leonard. The song "There's a Brand New Baby at Our House," from this episode, was originally written by Desi Arnaz for daughter Lucy's birth.
53-Inferiority Complex
Lucy pulls one faux pas after another, with the result that she develops a devastating inferiority complex. Ricky tries to flatter his wife out of her complex, but he must finally consult a "physio-chiatrist."
54-Club Election
Pitted against each other in the race for the presidency of their women's club, Lucy and Ethel try to wangle the deciding vote by devious means. Meanwhile, their husbands map a campaign to have them both defeated. In this episode Lillian Appleby, later Carolyn Appleby, appears for the first time as Lucy's rival.
55-The Black Eye
When a book accidentally tossed by Ricky hits Lucy in the eye, she winds up with a shiner. Neighbors Fred and Ethel jump to the conclusion that the Ricardos are having a family tiff. They intercede -- with black-eyed results.
56-Lucy Changes Her Mind
When Ricky complains that Lucy is constantly changing her mind and never completing things, she decides to complete an old high-school romance by finishing a love letter she started when she was in high school. Rather than being jealous, Ricky offers to mail it for her. Lucy must intercept the letter, or her ex-boyfriend will think she's out of her mind. "I Love Lucy" regular Frank Nelson returns, this time as a myopic waiter.
57-No Children Allowed
The Ricardos' infant prompts the neighbors to point out that there is a clause in the lease saying "no children." The Ricardos' landlords are also their friends the Mertzes, who loyally stand by them and refuse to evict them. Ethel Mertz takes such pride in her generous action that she brags about it at a bridge luncheon. Hearing Ethel's story for the umpteenth time, Lucy blows her top. Mrs. Trumbull, the Ricardos' reliable babysitter, makes her first appearance in this episode.
58-Lucy Hires a Maid
Exhausted from walking the baby all night, Lucy and Ricky hire a maid. Lucy has never had anyone work for her before. She practices interviewing Ethel, using a businesslike, tough attitude as Ricky has instructed. But the woman she hires, Mrs. Porter, completely overpowers Lucy. Ethel talks Lucy into firing Mrs. Porter, but this is easier said than done. Classic character actress Verna Felton guest-stars and cleans house in this episode.
59-The Indian Show
Lucy wants to get into the act when Ricky is producing an Indian show and boning up on Indian lore. Trying to avoid a renewal of Lucy's desire to get into show business, Ricky doesn't tell her he is producing an Indian show. Lucy reads Ricky's book, "Bloodcurdling Indian Tales," and is horrified by the stories. When two Indians in full regalia turn up for an audition, Lucy stages an ambush for them. Eventually Lucy steals the show with her classic rendition of "By the Waters of the Minnetonka."
60-Lucy's Last Birthday
Ricky has planned a surprise party for Lucy's birthday. He swears the Mertzes and all their friends to secrecy. Lucy, however, only knows that everyone has forgotten her birthday and works very hard at being gay, denying that she wanted anyone to remember. Taking a walk to forget her troubles, Lucy runs across a rescue mission band called "Friends of the Friendless," tearfully tells them her troubles, and marches off with them. Meanwhile the party guests are assembled at Ricky's nightclub, waiting for the guest of honor. Ricky sings the lyrics to "I Love Lucy" for the first and only time in this Classic TV episode.
61-The Ricardos Change Apartments
Lucy thinks the Ricardos need a larger apartment now that they have the baby. She tries all her tricks to cajole Ricky into switching apartments with Mr. and Mrs. Benson, who have recently married off their daughter and don't need the extra bedroom. Lucy fills her apartment with junk, including a sliding pond and teeter-totter, to give it a "cramped" appearance. This is the episode when the Ricardos move up in the world. . .to apartment 3-B.
62-Lucy Is Matchmaker
When Eddie Grant, a friend of the Mertzes, stops by for an unexpected visit and finds they are not at home, he leaves them a message with Lucy. When Lucy learns that the lingerie salesman is an eligible bachelor, she immediately begins brewing plans to fix him up with her girlfriend Sylvia Collins.
63-Lucy Wants New Furniture
A frantic economy wave engulfs the Ricardo household. Lucy buys some furniture against Ricky's orders and is forced to pay for it out of her own allowance. Ricky confiscates the furniture and takes it to the club until it's paid off. Lucy also needs a new dress and a new hairstyle for the Carrolls' party at the Tropicana on Saturday night. She tries to make her own dress and then does some "permanent damage" in this episode.
64-The Camping Trip
When Lucy and Ethel come to the conclusion that good marriages are based on mutual interests, they invite themselves on a rugged camping trip with their spouses. Ricky submits to the proposal, assuming that the sound of the first coyote's howl will send the girls dashing back to the city. Watch as Lucy conquers the great outdoors (with a little help from Ethel).