The First Season 1951-52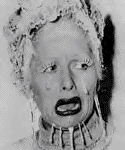 1-Lucy Thinks Ricky Is Trying to Murder Her
A misunderstood conversation between Ricky and his agent leads Lucy to the conclusion that he is trying to kill her. Ricky pours a sedative for Lucy so she can relax, but she thinks it's poison. With what she believes is her last burst of energy, she drags herself to Ricky's club to shoot him. The Classic TV sitcom is born with this, the very first Lucy episode.
2-The Girls Want to Go to a Nightclub
To celebrate the Mertzes' wedding anniversary, Fred and Ricky want to go to a prize fight, but the girls want to get dressed up and go to a nightclub. Lucy threatens to find two other escorts if their husbands won't take them. This is just fine with Fred, but Ricky worries. So he and Fred find two other girls and go to the same nightclub to spy on their wives.
3-Be a Pal
Lucy decides Ricky's love is growing cold, so she takes Ethel's suggestions: that she join her spouse in his weekly poker game and that she turn the apartment into a Cuban hacienda to appeal to Ricky's native tastes. Look for Lucy's wacky Carmen Miranda impression in this episode.
4-The Diet
One of the girls in Ricky's show quits, making a vacancy for a singer who can wear a size 12 costume. Lucy tricks Ricky into saying that if she loses enough weight she can sing in the show. She then starves, exercises, and steams, finally losing five pounds. . .but there are further obstacles to her "big break." In this episode, Lucy and Desi reprise one of the highlights of their 1950 vaudeville tour, "Cuban Pete."
5-The Quiz Show
Finding herself short of funds, Lucy wangles her way into a contestant spot on a wild and woolly quiz show. The show is called "Females are Fabulous," a title that Lucy justifies elaborately. In this episode, Frank Nelson makes the first of many cameos as Freddy Fillmore.
6-The Audition Show
Ricky's band is to be auditioned for television, and Lucy is trying to "get into the act." When Lucy substitutes for Buffo the clown, the producers want to sign her, not Ricky, and Lucy is confronted with problems. Ricky sings his trademark "Babalu" for the first time in this episode.
7-The Seance
Lucy suddenly becomes interested in numerology and superstitions. After advising Ricky that it's a good day for him to make deals, she realizes that she read yesterday's horoscopes and that today is actually a bad day for Ricky. She thus says "no" to a very important business call for Ricky from Mr. Meriweather. In the process of putting things right, Lucy conducts a seance. Classic Ethel quote: "Ethel to Tillie, Ethel to Tillie, come in Tillie."
8-Men Are Messy
When Ricky leaves his clothes around the living room, Lucy gets angry and divides the living room in half so Ricky can be as messy as he likes on his side. Ricky gets the Tropicana jumping with the "Straw Hat Song" in this episode.
9-Drafted
When Lucy opens a telegram addressed to Ricky ordering him to appear at the Army's Fort Dix, she assumes he has been drafted. Both Lucy and Ethel are convinced their husbands have been drafted when they see them drilling in the living room with brooms. They don't realize that Ricky and Fred are practicing a dance routine for the servicemen's show.
10-The Fur Coat
Ricky brings home a mink coat that is to be used in his nightclub act, but Lucy takes it for granted it's for her. Trying to get the coat away from her is a problem for Ricky: Lucy not only sleeps in it, she even wears it while she is doing the housework. Finally, Ricky tells Fred to dress up like a robber and steal it back for him.
11-Jealous of Girl Dancer
Ethel Mertz misinterprets a gossip column item and decides Ricky is interested in a chorus girl. To keep an eye on Ricky, Lucy manages to wangle her way into the chorus line, where she upstages the dancer during the number and makes a mess of the show. Arroz con pollo, Desi Arnaz's actual favorite dish, is served up in this episode.
12-The Adagio
Lucy learns that Ricky is looking for an Apache dancer for his nightclub act. Convinced that someday she will break into show business, Lucy grabs at this opportunity. She dreams up a wild American Indian war dance routine and goes after the job at Ricky's club. As a result, Ricky is challenged to a duel behind Radio City Music Hall.
13-The Benefit
Lucy resorts to womanly wiles to get Ricky to sing at a women's club benefit. Ricky is reluctant at first, but Lucy tricks him into agreeing to sing and dance with her at the function. In this episode Lucy and Ricky reprise a classic vaudeville routine, "Underneath the Bamboo Tree."
14-The Amateur Hour
Lucy buys a very expensive dress. When Ricky tells her to take it back or pay for it herself, she decides to get a babysitting job -- but gets more than she bargained for with the Hudson twins.
15-Lucy Plays Cupid
Lucy tries to arrange a match between a love-starved old lady and a giddy grocery man. In her efforts to play Cupid, Lucy gives the grocer the idea that she has a crush on him. TV Land regulars Edward Everett Horton and Bea Benadaret guest-star in this episode.
16-Lucy Fakes Illness
Ricky won't hire Lucy for his new act, so Lucy consults a book on abnormal psychology for a solution. When Ricky arrives home and finds out that Lucy is faking a nasty case of the "gobloots," he calls in an actor to play a physician.
17-Lucy Writes a Play
Lucy writes a tender, heartwarming story of a Cuban tobacco picker in "A Tree Grows in Havana." She tries to get Ricky to star in it. When he refuses, Lucy settles for Fred. However, Fred's Spanish accent is so terrible that she changes the play's setting to England. Ricky wants back in, but doesn't realize that the play has been revamped until he's on stage.
18-Breaking the Lease
After a fun evening around the piano singing favorite songs, the Mertzes retire to bed, leaving Lucy and Ricky alone to pursue a short encore. Ethel telephones demanding quiet. When Lucy points out that the Mertzes were just down there making noise themselves, the Ricardos and the Mertzes have the first of many classic feuds.
19-The Ballet
Ricky is searching for both a ballet dancer and a burlesque comic for his new act. Lucy wants the ballet job desperately and enrolls in a dance class run by the strict Madame Lamond. After failing at ballet, she decides to hire a burlesque comic teacher in hopes that she can at least be the comic in the show. When Lucy is summoned to the club to replace a sick performer, she assumes it's the comic they need, but it is actually the ballet dancer. Look for Lucy's "Slowly I Turned" burlesque comedy routine in this episode.
20-The Young Fans
When a teenage girl named Peggy drops her steady, Arthur, for suave Ricky Ricardo, Lucy tries to teach the clumsy schoolboy how to dance so he can impress Peggy. Unfortunately, Arthur gets carried away and proclaims his love for Lucy. Richard Crenna and Janet Waldo (the voice of Judy Jetson) guest-star in this episode.
21-New Neighbors
Lucy and Ethel can't wait to get a closer look at the belongings of their new neighbors, the O'Briens. Ricky makes Lucy promise not to set foot in their apartment. Lucy and Ethel decide to snoop anyway, but when the O'Briens come home suddenly, Lucy and Ethel hide in a closet. There they overhear the O'Briens discussing what sounds like a plot to murder Ricky and Lucy. The neighbors are actually television actors rehearsing a scene. Hayden Rorke, who played Dr. Bellows on "I Dream of Jeannie," guest-stars in this episode.
22-Fred and Ethel Fight
Lucy and Ricky try to patch up the Mertzes' quarrel by inviting each to dinner without the other's knowledge. "I Love Lucy" sponsor Phillip Morris is prominently plugged in this episode.
23-The Mustache
When Ricky refuses to shave off his new mustache, Lucy glues a white beard and mustache on her own face. Ricky concedes defeat, but Lucy is unable to remove her false whiskers because the glue remover is no longer available. It's "Bulldog Cement" that seals Lucy's fate in this episode.
24-The Gossip
Ricky and Fred bet Lucy and Ethel that they can keep from gossiping longer than their wives. The winners are to be served breakfast in bed for a month. Ricky tells Lucy some gossip while pretending to be asleep, so that Lucy will spill the news to Ethel and make the girls lose the bet. Watch for the classic moment when Lucy does charades in this episode.
25-Pioneer Women
Determining that they have washed 219,000 dishes since being married, Lucy and Ethel demand dishwashers. The men insist that the women have it too "soft" and bet them fifty dollars that they can't live without modern conveniences. See the classic moment when Lucy battles a loaf of bread.
26-The Marriage License
A close inspection of her marriage license convinces Lucy that she and Ricky are not legally married. Because his name is misspelled on the certificate, Lucy insists that Ricky go through the entire courtship and marriage ceremony a second time. This episode is based on Lucy and Desi's actual wedding.
27-The Kleptomaniac
Ricky discovers a large amount of cash in Lucy's purse and a cache of silverware and other valuables in a closet. Unaware that Lucy is collecting items for a club bazaar, he immediately jumps to the conclusion that she's a kleptomaniac. Joseph Kearns, Mr. Wilson in "Dennis the Menace," guest-stars in this episode.
28-Cuban Pals
Annoyed by Ricky's accounts of the lovely Cuban entertainer Renita, who was his partner in the old days, Lucy rigs herself out as a seductive Latin dancer and devises a plan to replace Renita in the show.
29-The Freezer
Lucy gets a walk-in meat freezer, orders two sides of beef, and runs a business with Ethel until the neighborhood butcher gets wise to their competitive tricks. While trying to move the beef from the basement freezer into the unlit furnace before Ricky sees the $483 meat bill, Lucy accidentally gets locked inside the freezer. This is the "human popsicle" episode.
30-Lucy Does a TV Commercial
Lucy tricks Ricky into letting her do a commercial during a television variety show. The commercial is for Vitameatavegamin Vitamins, and Lucy is the Vitameatavegamin girl. Don't miss this classic episode.
31-Publicity Agent
To increase business at the Tropicana, Lucy concocts a publicity scheme based on a newspaper item claiming that the Shah of Persia owns all of Benny Goodman's records. Lucy decides to pose as the Maharincess of Franistan, who has traveled halfway around the globe to see her singing idol, Ricky Ricardo.
32-Lucy Gets Ricky on the Radio
Convinced that Ricky is a mental giant, Lucy makes secret arrangements to get him on a radio quiz show. Frank Nelson returns once again as quiz show host Freddie Fillmore.
33-Lucy's Schedule
After Lucy is late for a dinner appointment with Ricky's boss Alvin Littlefield, Ricky puts his wife on a rigid time schedule. Ricky tells his boss about this new schedule, adding that he has Lucy jumping around like a trained seal and that Littlefield should come over to see her perform. When Lucy gets wind of the plot, she schemes with Ethel and Mrs. Littlefield to teach their time-conscious hubbies a well-deserved lesson. Gale Gordon makes his first guest-star appearance as Alvin Littlefield, Ricky's boss.
34-Getting Bald
Haunted by the thought that he is growing bald, Ricky appeals to Lucy, who comes up with an unorthodox treatment.
35-Ricky Asks for a Raise
Lucy convinces Ricky that he should pressure his boss into giving him a raise. When Ricky follows Lucy's advice literally, he gets a big "no" from the nightclub owner. Insult is added to injury when Ricky's nightclub launches an explosive campaign announcing the debut of his replacement. You can't miss Fred Mertz in drag in this episode. Gale Gordon returns as guest star.
36-Anniversary Present
Believing that Ricky has forgotten their anniversary, Lucy fears his attentions are wandering. Her suspicions are further aroused when she sees him fastening a pearl necklace around the neck of one of their neighbors.
37-The Handcuffs
Inspired by a magic trick she saw, Lucy handcuffs herself to her sleeping husband. To their mutual horror, they discover that the handcuffs are of Civil War vintage and a key cannot be found to unlock them.
38-The Operetta
Lucy persuades members of her women's club to stage her original operetta with "John Charles Ricardo" as the leading man. Lucy plays a witchlike gypsy in the show, and Ricky plays the hero "good Prince Lancelot." In the midst of the performance, men from the costume and scenery rental company arrive and proceed to repossess the items.