Fred's Bio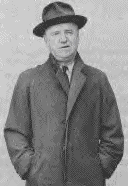 Fred
William Frawley was born on February 26, 1887 in Burlington, Iowa. Before he ever tackled television he had spent most of his life in front of an audience. He performed in a vaudeville song and dance act with his wife Louise. After their divorce in 1927 he spent the next several years playing a variety of musical comedy roles in such musicals as Bye Bye Bonnie, She's My Baby and Here's Howe! Then Paramount Pictures signed him to a long term contract after he was spotted in the original Broadway production of the Ben Hecht-Charles MacArthur comedy, Twentieth Century. By the time he asked for the role of Fred Mertz, he had appeared in 103 movies among them Roxie Hart, Going My Way, Lady on a Train, Miracle on 34th Street, The Babe Ruth Story and The Lemon Drop Kid.
He played the role of Fred Mertz with the same professionalism he had brought to all his other work, but though he needed the job he did no more than was expected of him. Originally, Lucille Ball had wanted Gale Gordon for the role, but Gordon was unavailable. Frawley got the role only after convincing network executives that he wouldn't let his habit for alcohol interfere with his work.
During his time on I Love Lucy, Frawley made no bones about his dislike for his on-screen wife, Vivian Vance. He once remarked: "She's one of the finest gals to come out of Kansas, but I often wish she'd go back there." Likewise, Vance was often vocal with her disgust about having an onscreen husband who was old enough to be her father.
Frawley often kept to himself and didn't make a secret of the fact that his dialogue was all he cared about. He worked basically to support his all consuming extracurricular activity; baseball. Though he never missed an episode, the "baseball" clause in his contract caused some major scheduling problems over the course of the show. If the New York Yankees went into the World Series, he was to be given time away to attend the fall classic. Seven out of nine seasons while he played Fred, he took off in October to attend the World Series. He was not only an avid baseball fan but a stockholder in the Hollywood Stars, and on the advisory board of the Los
Angeles Angels, two Pacific Coast League professional baseball teams.
During his I Love Lucy years, Frawley found time for occasional guest appearances on other shows such as The Mickey Mouse Club, The Gale Storm Show, The Red Skelton Show, The Loretta Young Show, and Shower of Stars. In 1960, he began work on another long-running series, My Three Sons. On that show he played Michael Francis "Bub" O'Casey, father-in-law to Fred MacMurray's character and housekeeper for the family of men. In 1964 Frawley became too ill to work and was replaced on My Three Sons by William Demarest at the end of the season.
Frawley's last television appearance was a cameo on a 1965 episode of The Lucy Show, entitled Lucy and the Countess Have a Horse Guest. In that episode, Lucy Carmichael commented on how familiar he seemed to her.
William Frawley died on March 3, 1966 in Hollywood, California from a stroke.