Ethel's Bio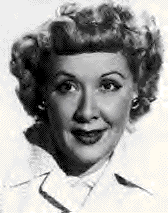 Ethel
Vivian Vance was born Vivian Roberta Jones on July 26, 1909 in Cherryvale, Kansas. She spent most of her youth in Independence, Kansas. Vivian started acting when she moved to Albuquerque, New Mexico, where she took the last name Vance from a dramatics teacher who had been supportive of her acting career. There her performances with in little theater inspired the local audience to take up a collection to send her to New York City to study acting. In New York, Vivian assumed her stage name and spent most of the 1930s and 40s as a successful Broadway stage actress, appearing in minor roles such as in Jerome Kern's and Oscar Hamerstein II's Music in the Air and Cole Porter's Anything Goes. She won her biggest honor when, as an understudy, she stepped into Kay Thompson's role in Hooray for What on opening night.
Before the role of Ethel came along, Vivian had suffered an emotional breakdown, apparently brought on by a combination of career pressures, a not-so-good relationship with her mother, and a difficult relationship with her husband, character actor Phil Ober. She then moved to the west coast where she continued to perform in theater productions. I Love Lucy director Marc Daniels, who had worked with Vance in a theater production of Counselor at Law, suggested her for the role of Ethel Mertz. Daniels took Desi Arnaz to see her in a revival of The Voice of the Turtle, and they both knew at once that they had found the right actress to play opposite Lucille Ball.
But Lucyl and Vivian were not as easily convinced. Vivian, who was starting to get some movie roles, viewed herself as a glamorous Broadway actress-not as a frumpy, overweight, comedic landlady. For her part, Lucy saw Vivian as direct competition. Vivian's hair was red, she was slim and attractive, and she was only two years older. Lucille Ball complained that Vivian was not the peroxide-blond-in-an-old-frayed-bathrobe that she had envisioned.
Once Vivian had decided she wanted the role, however, she did everything possible to convince Lucy that she was Ethel Mertz. She even spent the entire run of the I Love Lucy show twenty pounds overweight. This commitment to the role gained Vivian Vance several Best Supporting Actress Emmy nominations. She finally won an Emmy in 1953.
After I Love Lucy ended, Vivian auditioned for a comedy series of her own-Guestward Ho!-but the lead role eventually went to another actress. She went happily into retirement with her new husband, literary agent John Dodds, and moved to Stamford, Connecticut.
In 1962 it took quite a bit of pressure and some complicated contract negotiations to persuade her to commute weekly to the West Coast for The Lucy Show. She asked that her character name be changed from Ethel to Vivan. She also asked permission to lose the extra twenty pounds that she had carried during I Love Lucy. Vivian bargained for a more glamorous wardrobe as well.
After three seasons (1962-1965), she had had enough of her weekly coastal commutes and returned to her life of retirement in Connecticut. She did, however, appear in yearly reunion episodes of The Lucy Show until 1972. She also continued to make appearances on Lucille Ball's specials as well as on other television series, including Love American Style and Rhoda.
Vivian Vance died on August 17, 1979 after two years of battling bone cancer.