Lucy's Bio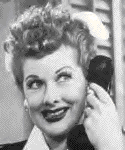 Lucy
Television comedienne, actress andproducer, Lucille Ball was born August 6, 1911, in Celoron, New York. At age 15, she enrolled in the John Murray Anderson Drama School in New York City. She repeatedly auditioned, unsuccessfully, for Broadway chorus lines before turning to modeling. Using the name Diane Belmont, Lucy became a model in fashion designer Hattie Carnegie's studio and won national exposure as the Chesterfield Cigarette Girl in 1933. This success led to her first movie role, as a chorus girl in Roman Scandals (1934).
From the early 1930s through the late 1940s, Lucy appeared in over 60 films. She was under contract to the RKO studio for seven years, playing leading roles in a number of low-budget movies. Often typecast as the plucky sidekick, her talent was largely wasted in these films." Nobody in Hollywood understands her talents," the renowned critic James Agee once maintained, "She's a giant tied down by pygmies." Some of her more notable films included Stage Door (1937), with Katharine Hepburn and Ginger Rogers; The Affairs of Annabel (1938); Five Came Back (1939); Dance, Girl, Dance (1940); The Big Street (1942); The Dark Corner (1946); and Sorrowful Jones (1949), co-starring Bob Hope.
From 1947 to 1951, Lucy played a wacky wife of a straight-laced banker on the popular CBS radio program, My Favorite Husband. When CBS approached her about taking the show to television, she set a condition: She would only participate if her real-life husband, Cuban bandleader Desi Arnaz, played her TV husband. Lucy and Desi had eloped in 1940 after meeting on the set of RKO's Too Many Girls, but after over a decade, their incompatible work schedules--she stayed in Hollywood making movies while he toured with his band--had taken a toll on the marriage. Their solution: start working together on a TV comedy based around the unlikely marriage of a redheaded housewife and a Cuban bandleader. While CBS executives were initially skeptical about public acceptance of such a couple, Desi and Lucyl won them over after they went on a successful nationwide tour with their vaudeville act--including a medley number called "Cuban Pete-Sally Sweet"--and put up their own money to film a pilot of the show.
When I Love Lucy premiered on October 15, 1951, it immediately became one of the most popular shows on television. In its six-year run, the show never ranked lower than third in the Nielsen ratings--it was No. 1 for four of those years and won more than 200 awards, including five Emmys. While all four principal characters, Lucy and Ricky Ricardo (Ball and Arnaz) and their neighbors, Fred and Ethel Mertz (William Frawley and Vivian Vance), became beloved fixtures in tens of millions of homes, it was Ball who won over the world with her tempestuous, disaster-prone Lucy.
Perfecting her own brand of physical comedy, she represented a new kind of female character--goofy yet sexy--that TV had never seen the likes of before. The continued appearance of the very-pregnant Ball raised more than one traditional eyebrow, especially after the groundbreaking episode on January 19, 1953, when a then-record 44 million viewers tuned in as Lucy Ricardo gave birth to Little Ricky on air--the same night that Ball gave birth to her second child, Desi Jr.
Apart from its content, the show also changed forever the way TV comedies were made, paving the way as the 30-minute situation comedy increasingly replaced the once-dominant hour-long comedy variety show. As head of the couple's production company, Desilu, Desi pioneered a new way of producing TV shows, shooting each episode of I Love Lucy on film, by three cameras, in front of a live studio audience, so that the final product could be rebroadcast any number of times instead of preserved only on a fuzzy kinescope. Although Desi initially reserved all rights to these shows to Desilu, he eventually sold them to CBS, allowing the couple to buy their own studio, the former RKO.
By 1957, after 179 episodes, both Lucy and Desi had grown exhausted by the show's hectic taping schedule, and their always-tumultuous marriage was again in trouble. For the next three years, they made a series of hour-long specials called The Lucy-Desi Comedy Hour. Desi continued to work feverishly on Desilu, which grew into a powerful corporation and spawned a number of hit TV series, including Star Trek and Mission Impossible. In 1960, America's best-loved couple ended their 20-year marriage. In 1962, Lucy bought Desi's half of Desilu--taking out a bank loan of $3 million--and became sole owner of what was then the world's largest production facility.
Two years after her divorce, Lucy returned to situation comedy with The Lucy Show, which ran from 1962 to 1968, followed byHere's Lucy, from 1968 to 1974. Both shows featured Vivian Vance and Gale Gordon. The latter show also featured her children, Lucie and Desi Arnaz, Jr. She also appeared on Broadway in 1961's Wildcat; reteamed with Bob Hope in two new comedy films, The Facts of Life (1961) and Critic's Choice (1963); and co-starred with Henry Fonda in Yours, Mine and Ours (1968).
In addition to her acting career, Lucy proved to be quite a success as a businesswoman. In 1967, she sold Desilu Productions to Gulf and Western Industries for $17 million, netting a total of $10 million as her own share. In 1968, she and her new husband, the former nightclub comedian Gary Morton, formed Lucille Ball Productions.
In later years, shel returned to TV in a number of specials, including a dramatic role as a bag lady in the 1985 movie Stone Pillow. In 1986, the 75-year-old actress attempted to return to situation comedy yet again, in ABC's Life with Lucy, but the short-lived show failed to find an audience. Her last public appearance was at the 1989 Academy Awards, when she and Hope introduced a production number called "New Hollywood."
By 1989, Lucy had lived for years with Morton in their houses in Beverly Hills, Palm Springs, and Snowmass, Colorado. On April 26, 1989, a week after undergoing open heart surgery, she suffered a ruptured aorta and died at the age of 77. She was survived by Morton, her two children with Arnaz--who died in 1986 of cancer--and three grandchildren. At the time of her death, I Love Lucy remained in syndication in more than 80 countries.